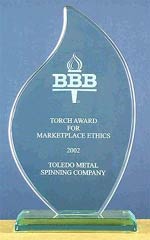 Archbold Buckeye, May 23,2002
Toledo Metal Spinning Co. was one of the companies to receive a Better Business Bureau Torch Award for marketplace ethics, May 23. The company is owned by former Archbold resident, Ken Fankhauser, and his two sons, Craig and Eric, vice presidents.
The company won the award in the midsize business category. It recognizes companies committed "to exceptionally high standards of fair dealing in their relationship with the public" according to Dick Eppstein, president of the Toledo BBB.
Northwest Ohio and Southeast Michigan BBB presented the local awards for the first time ever. Nominees completed a four-page form about their policies and practices. The entries were judged by a panel of community leaders.
The TMS entry told how a young Ken Fankhauser turned over to his employer a client's audit check made out to Ken for outstanding services. It was policy that employees could not accept stipends for services rendered, and, instead of cashing it, turned it over to his superior. That was 38 years ago. Ken's honesty so impressed the man for whom Ken worked; he offered to sell him his business, Toledo Metal Spinning Co.
At that time, the 1954 graduate of Archbold High School was a recent graduate of Bowling Green State University. Ken was working for a Toledo accounting firm. He and his brother, Bill, and AHS grad and aeronautical engineer, living in Seattle, Wash., purchased the business. They left the security of good jobs to start new careers in custom metal spinning. Neither had prior experience in the business.
According to Eric, the 45-employee company is a product of his father's honesty. We just do what comes naturally to us. We uphold our company to our father's standards of honesty and integrity.
More than 70 businesses were nominated for the awards. Other finalists included Salsberry Christmas Tree Farm, Delta, a firm under 15 employees; Beck's Construction Co. and Leader Engineering-Fabrication, Napoleon, 16 to 50 employees: and the Andersons of Maumee and Sky Bank, Bowling Green, t he large employee category.