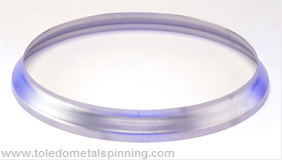 Industry: Aerospace
Market: Aircraft Engine and Missile Components
Regularly formed aerospace grade metals:
Stainless Steels 309, 310, 321, 347
Inconel 625, 718
Aluminum 2000, 5000, 6000, 7000 series
Titanium CP Ti64
TMS moved into the aerospace industry in the 1960's producing all sorts of components out of typical aircraft grade materials. We ensure your parts are processed to your specifications with lot traceability for each part we ship to you. When you have weld applications demanding the best weld conditions, we have equipment to produce your weld in a highly controlled manner in an inert atmosphere to minimize porosity. TMS can provide a weld schedule and submit to you weld coupons for testing to assure that what we say is what we do.
Under the same roof, the tooling needed to build your part is designed, built and tried out. We can be your partner to develop lower volume parts using lower tooling cost methods until your production picks up. When that occurs, we can then be your partner to scale up to your production quantities to take advantage of our pressing abilities. Contact us today and we will begin immediately to work towards manufacturing your parts.